Nalini Singh
is having a
contest
on her blog to celebrate the fact her latest Psy/Changeling book,
Caressed by Ice
is about to be released. I loved the first two,
Slave to Sensation
and
Visions of Heat
, and I already have
Caressed by Ice
on pre-order.
If you'd like a slightly different paranormal romance and you haven't tried Nalini's books, go and try
Slave to Sensation
. I loved it. (And besides, Nalini is a New Zealander, so I'll take any chance to promote a fellow Kiwi.)

Which Psy-Changeling Hero Is For You?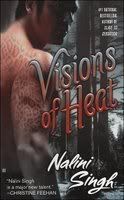 Your Psy/Changeling Hero: Vaughn

Protective, possessive and sensual to the core, Vaughn is a sentinel with the heart of a jaguar. If he decides to make you his, there's no getting away. So run...or get ready to tangle with the wild fury of a changeling who is more animal than most.Find out more about Vaughn and the series at www.nalinisingh.com
Take this quiz!









Quizilla |
Join

| Make A Quiz | More Quizzes | Grab Code