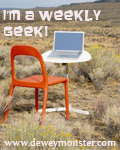 This week's
Weekly Geeks
is to reflect of
Fond Memories of Childhood Books
. I was thinking about this in the shower this morning (I do all my best thinking in the shower) and found I could easily remember picture books and teenage books, but I had trouble with the ones in between. I don't know if that means the books themselves were less memorable or what, but there you have it.
At first, I actually couldn't think of anything at all and then the floodgates opened and there were more old favourites piling into my memory than I could possible discuss here. So I've picked a few that I remember as special.
One of my family's favourite picture books when I was a child was
The House of Four Seasons
by Roger Duvoisin.
As an aside, I had to ring up my mother to get the correct title and author as it's an old OOP book and I was remembering the name slightly wrong, so Google couldn't help me. Fortunately my mother works in childcare and has a house full of books including special shelves away from the living area that hold all our old favourites from when we were children and general purpose shelves in the living area with copies of many books mostly bought in garage sales for any visitor to read.
Anyway, a family buys a dilapidated old house in the country and then has to decide what colour to paint it. All of the children have different ideas, based around the seasons, and no-one can agree. In the end, the father makes a colour wheel and spins it so that the colours blend into white and everyone agrees to paint the house white. I remember having this book read to me and my siblings and how much we liked it (even if, or perhaps especially because, we wouldn't have been able to agree if it was us). I also remember us making colour wheels out of cardboard and elastic and getting close to spinning them fast enough for the colours to blend, but never quite enough.
Hmmm, after writing this, I think I'll also have to ring my mother back and ask her to loan us the book so I can read it to my son.
Another favourite, that was read to us each Easter was
The Country Bunny and the Little Gold Shoes
by DuBose Heyward. My mother would read this to us each Easter, and we thrilled to the story of the little rabbit with her 21 children who beat out all the snobbish rabbits to become an Easter Bunny. She carries on despite troubles and exhaustion to deliver all her eggs, especially one to a sick boy who lives far away on a mountain top. I'm carrying on the family tradition with this one. My little boy is now four and I found a copy (from the general purpose shelves at my mother's house) and read it to him this Easter. I hope he will ask for it each year as we did.
The third (and final, although I could go on all day I think) picture book that I'm going to pick to showcase is
My Cat Likes to Hide in Boxes
by Eve Sutton and illustrated by Lynley Dodd. This is simple but fun; cats from all over the world are featured (my favourite is the cat from Norway who gets stuck in the doorway) but always we go back to "my" cat, who likes to hide in boxes. Marcus was given a copy of this one for Christmas several years back by a librarian friend who said, rightly, that every Kiwi kid should have a copy of it. We read it regularly and he joins in every second page with "But
my
cat likes to hid in boxes". Since his cat does indeed like to hide in boxes, it's a perfect bedtime story.
My brother, sister and I loved the book just as much as Marcus, although I have a feeling we were older than four when we first discovered it. [Excuse me while I check.] Yes, since the original publication date is 1978 when I would have been 9, I suspect the original copy belonged to my sister, who would have been three when it was published. Her big brother and sister loved it too anyway.
As for books when I started to read myself, as I said at the beginning, I don't remember a lot of specifics. I know I went through the "pony phase" and read a lot of horse books; classic authors of my mother's generation like the Pullein-Thompson sisters, Ruby Ferguson, Patricia Leitch (I still have most of her Jinny series) and others. I also "did" Trixie Beldon like many other girls my age at the time. I thought they were wonderful and gobbled them up at a great rate. We never had pocket money, so my parents must have bought a lot of pony books and Trixie books among others. I was a voracious reader and they never let me go hungry - I also had a library card early and I can still picture the junior library I haunted when I was young. It's is long gone now, replaced by a snazzy, new, "architectural" building on the other side of the city square where books are arranged in "zones" rather than by author and you can't find anything you're looking for. (Don't get me started on "zones" in libraries as I can rant about that for an extended period.)
I discovered and loved Madeleine L'Engle in that library. I remember reading a few of her Austins books that I think were probably a bit old for me at the time, but really, it was all about Meg Murray and the "Wrinkle" books. I loved them all, devouring the main three books and then happily finding
Many Waters
on the shelf and realising there was an extra book most people didn't seem to know about. The fifth book,
An Acceptable Time
was published later when I was buying books for myself and I still have that (and all the others in the series of course) in the library downstairs. Those books have been through a lot of houses with me and my constant fondness for the
Rune of Saint Patrick
is directly attributable to
A Swiftly Tilting Planet
I'm certain.
Looking back, these were probably some of my first "science fiction" reads, although I was always attracted to those kinds of books. I know I went through Andre Norton's children's books from the library as well and have fond but very vague memories of many of those. I remember H. M. Hoover's
Children of Morrow
and
Treasures of Morrow
fondly too. It was the early 80s at the time and I think there were quite a few post-apocalyptic type books around as the nuclear arms race heated up.
When I was around thirteen or so, I spent some days "helping" a friend in Melbourne (Australia) who was about to move to New Zealand with her packing. While we were doing this I discovered a series of paperback books (old late sixties/early seventies editions) in a school series I was to fall in love with. They had belonged to her now grown up daughters and this bibliophile was delighted to be given all the titles we found. This was Elinor Brent-Dyer's
Chalet School
series; 62 books in total, the first written in 1925 and the last in 1970. I still have the entire series downstairs and I continue to update it as a specialty publisher reprints the books progressively (the paperback editions were often heavily abridged so I replace them with the unabridged reprints as they come out). Part of the attraction is that they were written in the time they are set and contain now old-fashioned attitudes and points-of-view that I found fascinating even at thirteen, and are even more so now.
This is already way, way too long, so I shall draw this to a halt. But I can't stop without finishing up with a mention of Patricia A. McKillip's
Riddle-Master
trilogy. These were my first "grown up" fantasy books, that I discovered when I ventured from the children's section to the YA section in the town library (such as it was, since YA wasn't the genre it is now when I was a YA). They will always hold a special place in my heart for that reason - and besides they are wonderful books that are as good today as they were the first time I pulled the first one from the shelf and decided to take it home despite the terribly plain and boring cover.
I guess any bibliophile who was fortunate enough to grow up in a house that fostered reading is going to have many fond memories of childhood books. These are some of mine and even if no-one else reads it - or makes it this far through such a long post - I've had a lovely time remembering some of my favourites.